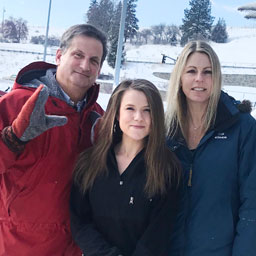 Smith Team Real Estate was formed in 2002 and brings 50+ years of combined Montana Real Estate Experience.
We have witnessed countless trends, changes in law, up markets, down markets, and everything in between. This experience allows us to provide our clients with a unique market perspective.
Each member brings different strengths and perspectives to the table, resulting in a well-balanced, dynamic, dependable team for our clients. When you choose Smith Team Real Estate, you have two Brokers and our licensed assistant working for you. The three of us, Ric, Sarah, and Ashlee are committed to our clients and are here to provide support. Our clients' needs are paramount. With this support team on our clients' side, they are assured of service, communication, and results. We live, work and play here. We have served on many boards, are members of community organizations, and have watched too many local sporting events to count, supporting the youth of this area. We know the community and are dedicated to the betterment of our neighborhood. The days of sticking an ad in the newspaper and selling the house are over. It is not that easy, and probably never will be. The network we have built up over the years adds direct value to our clients. We know the market. We know the go-to people. We know the planners, the contractors, the inspectors, title officers, lenders, service force, and more.
When it comes to communication, with 3 of us, we are always available as we navigate your transaction. Availability to other industry professionals is as important as availability to our clients as we promote your property. We optimize our gorgeous website and social media to target buyers who fit the profile for your property. Our social media presence is relevant, fun, consistent and EFFECTIVE. We utilize a lead generation software that closely tracks data on prospective buyers, making it easy to communicate with them and direct them to your home!  Results?  Yes indeed! We are one of the busiest real estate teams in the market and have a long list of satisfied and return clients.
See our testimonial webpage here: https://www.realsatisfied.com/Sarah-Beck-Smith
Let us help you find your own slice of heaven in in Western Montana!
Stay connected with Us! Facebook, Instagram, YouTube, Twitter!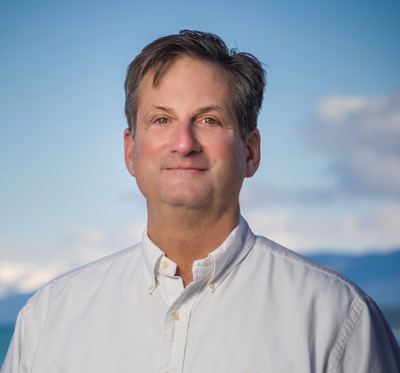 Ric Smith has been in the real estate business with Century 21 Big Sky since 1983.  He moved to the Polson area from California, where he surfed and owned/managed a natural foods restaurant for over a decade.  He soon was hired to manage the Century 21 office and in 1999 bought the company.  He has been a top producer with Century 21 for too many years to count.  Negotiating is a critical part of the real estate business and Ric loves it and excels at it.  In 2014 he was appointed by the Governor of MT to join the Board of Realty Regulation and now serves as Chair.  The rivers and oceans are his sanctuary, and during his time off he can be found on the water fly fishing.  He adores spending time with his sons and 2 crazy chocolate labs, and reads the Wall Street Journal cover to cover every day.
Sarah Beck has been in Polson, MT since 1995.  She originally hails from the Philadelphia area. Prior careers include meeting planning in the pharmaceutical industry, event planning for a hotel association, and a barista.  She has been in real estate since 2002 and has been a Century 21 Centurion Top Producer for the past 7 years.  She loves people, podcasts, movies, books, running (actually jogging), and chillaxing on patios and decks.  Her unofficial claim to fame is a featured realtor on HGTV's Lakefront Bargain Hunters!
Ashlee Perry was born and raised in Lake County, Montana. Before real estate, she worked in sales and marketing in the hospitality industry for 7 years. Ashlee joined the Smith Team in the beginning of 2017, and was licensed May 2017. Ashlee and her husband Shane have 2 children who she wishes would stop growing!  She loves people and the outdoor recreational opportunities Montana has to offer in different seasons.
"You sold it in 14 days. Great job, Smiths!"
"The sale of our home was a smooth and pleasant experience with the support and help of Ric and Sarah Smith."
"A very well run transaction. Thanks!"
"Both Ric and Sarah were very helpful answering any and every question we had, and even some we didn't think of."
"Smith Real Estate has helped us with the buying and selling of two houses. We were extremely impressed on how professional and caring they were during the process. I truly felt like they were just as invested as my wife and I were in getting into the perfect home. Sarah was available day and night and always made us feel comfortable and confident in our decisions during the journey. We worked with everyone on the team at different times, but their family atmosphere made sure everyone was always on the same page. I will definitely use Smith Real Estate again and would recommend Sarah to any prospective home buyers 10 times out of 10!!!"
"Our experience with the Smith Team was exceptional. Ric, Sarah and Liz couldn't have been more professional, patient or accommodating. We would recommend the Smith Team to anyone without hesitation. Shortly after selling our home we used the Smith Team to buy another property."
"I have no hesitation whatsoever in recommending Sarah Beck Smith and her team for anyone interested in buying or selling real estate in the Polson area that her agency serves. She clearly understood the market, and that made all the difference."
"Sarah Beck Smith is always approachable and if she doesn't have an answer to a question she will find an answer. Always got back to us in a timely manner. Sarah was right on with the time it took to sell our property."
"Your team was wonderful to work with! Thank you for exceeding our expectations and making the process stress free."
"The Smith Team was like having your close friends sell your home. They were always there for me, always
understanding, always positive and always empathetic."
"Sarah helped me buy this house. She's always been readily available when I need her and very
knowledgeable about the process and the current market. She's a ray of sunshine and always a pleasure to
deal with!"
"Very easy to work with kept us informed through out the sale"
"Awesome realtor!! She answered every question. If the answer was unknown she prompt found out and
returned our call. Pleasure to work with Sarah and the staff."
"Sarah, Ric and Ashlee were phenomenal to work with and made the purchase of our home in Polson simple
and stress-free. Sarah and Ric have an in depth knowledge of the community and surrounding area which
helped us to find the right property for us. My wife and I appreciated Ashlee's outstanding organizational
skills which made the closing on our property a breeze. We would recommend the Smith Team to anyone
looking to buy or sell in the Polson and Flathead Lake area. Thanks again for all your help!"
"I have no hesitation whatsoever in recommending Sarah Beck Smith and her team for anyone interested in
buying or selling real estate in the Polson area that her agency serves. She clearly understood the market,
and that made all the difference."
The Smith team was at all times professional, caring, and reassuring. There were times when we were
discouraged and they helped us see the big picture. They were honest about the price and suggested price
reductions when it was appropriate. They have a proven track record which gave us confidence. We would
certainly recommend the Smith Team to anyone interested is selling or buying a home. They know the area,
are honest and credible with their advice, and ultimately got the job done in a timely and efficient manner.
We had such a great first home buying experience! Thank you!!
Sarah, Ric, and Ashlee are an incredible team. They anticipated our needs, were patient with our decision
making, and were always available for explanations and information when needed. They are very
knowledgeable about the area's real estate market, which serves their clients well. They weren't pushy or
aggressive; they simply presented what houses were available, answered all of our questions, gave us the
information needed to make an informed decision and left the rest to us. We greatly appreciated that.
The Smith Team is very knowledgeable about the Polson area market. They are dedicated professionals who
work as a team to sell your home. They are an up to date/current group that uses facts and data to price your
home correctly. The Smith team markets your home with videos, drone photos and still photos detailing every
angle of your home along with giving you monthly sales data, updates, and emails that keep you informed.
They get potential buyers into your home. They are always available to answer any questions or solve any
issue. They love their work and it shows through their sales volume and through satisfied customers like
ourselves! Thank you Smith Team! We loved working with you and highly recommend you to anyone wanting
to sell or buy in the Polson area
We loved Sarah! She was so sweet and also very understanding and helpful to us as first time home buyers.
She always put our needs first and always made sure we understood what we were doing (since we had no
previous experience or knowledge in buying a house). I would highly recommend Sarah Beck Smith to
anyone looking for a new home
Sarah and team were great.
Sarah always works hard and is available regardless of the size of commission. She is honest and has
tremendous knowledge of the area.
The knowledge, professionalism, communication, friendliness and experience provided by the Smith Team
ensures every client need or want is met. I would recommend Ric, Sarah and Ashlee to anyone wanting to
buy or sell. Start by giving them a phone call! You will find out right away that they are the professionals you
want to handle your Real Estate transaction. Experience first hand how the Team will go above and beyond
for YOU!
Sarah was very professional and polite through the sales process.
Ashlee Cheff went above and beyond for us. She showed us several houses and always kept us updated if
anything changed or if we needed to get something done during the closing process. She understood our
needs and she always went out of her way to make sure that she could find the house for us. If your in the
market to buy a house my recommendation is Ashlee.
We loved Sarah from day one. She was always quick to respond whenever we had questions not matter time
or day. She was patient with us and our constant changing list of things our purchase needed. If we ever buy
or sell in her location we will definitely call her up to help us out again.
She was highly recommended, which in a small community is the best way of finding a professional in any
field.
This was the easiest process the whole way through. She was extremely helpful and provided a ton of
information not only on purchasing a home in general but her knowledge of the area was extensive. She
helped to guide us through the entire process and was there to answer any questions we had. We could not
have had an easier experience purchasing our first home, from start to finish.
Ashlee is just as wonderful as Sarah! She was extremely helpful, answering questions and super flexible
when scheduling a time for us to meet!
Sarah and Rick along with Ashlee make up the best real estate team that I have ever worked with. Should
the need arise, I would not hesitate to work with them again.
Our deals with Sarah Smith has made the selling and buying of two properties as hassle free as one could
hope for. Her and her staff provided necessary services in a timely, efficient manor. We would definitely
recommend Century 21 to our friends and family who are looking for property in the Polson area.
The whole staff in the Century 21 office answered any questions we had regarding necessary task for the
sale of the house. We asked for timely notifications for showing our property and we received on-line or
phone calls well in advance.
Thank you for all your help in the purchase and sell of our properties.
Buying a home is a big decision. You want someone who can answer your questions and find the right fit for
you and your family. Sara provides this and more. You don't feel like you are working with a realtor, you feel
like you are working with a friend. She provides expert advice and listens to your concerns and what you
need. She always responds to questions quickly and her staff is just as amazing.
Sarah and her team are amazing. Thank you for your time and energy on getting this deal done for me. You
made it so easy for me by all your hard work.
Sarah Beck Smith stands out as a knowledgeable and personable real estate agent. She listens carefully,
expresses empathy, and follows through by problem solving and attending to important details. Her team
demonstrated professionalism from start to finish. I am pleased with our overall experience and certainly
recommend Sarah and her team for consideration by other buyers or sellers.